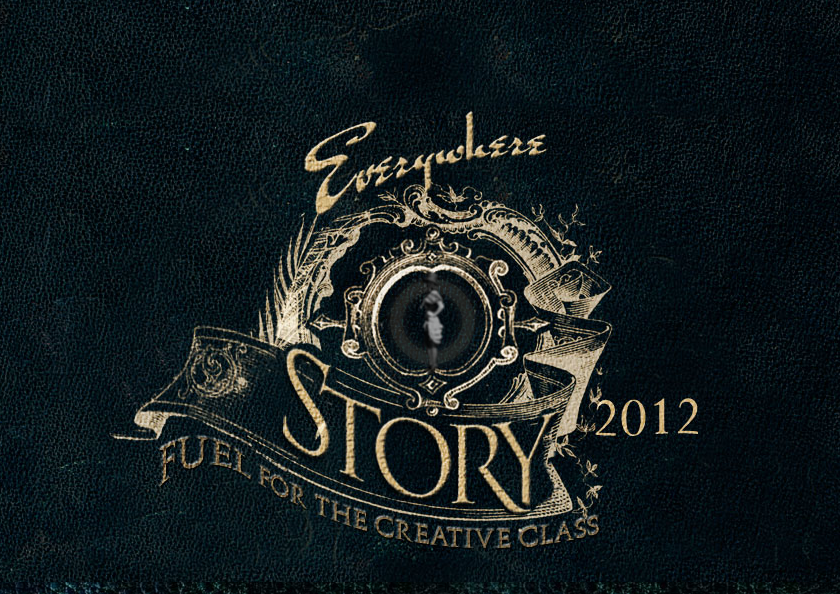 I don't think I knew what I was getting myself into when I registered for STORY, a two-day conference for the creative class in Chicago. I don't even remember where I first saw something about it. Maybe Rachel Held Evans posted something about it
on her blog
, or Bethany Suckrow, on
hers
.
But I loved the theme of STORY 2012: "Everywhere," speaking to the power of redemptive ideas in the most unlikely, unexpected places of the world. And I saw Evans and Bob Goff (whose [plural] books I read and dog-eared and underlined and lent to friends this summer) and Anne Lamott (whose books I devoured in college) and the word "story," and I thought, all of my favorite things, all in one room? Clearly, this is a room in which I need to be.
I started putting the word out this was all I wanted for my birthday earlier this month, if everybody wouldn't mind chipping in a buck or two toward a ticket instead of a card. And then my mom decided she would send me herself -- for research, she said, for the church library she organizes.
I wrote
an article for Christianity Today's Her.meneutics blog
about that adventure I had with the wedding dress and the tree and the spear and why Christians need a little adventure and what other Christians like Goff and G.K. Chesterton have said about adventure. And then Goff said it was one of the best he's read and he retweeted it and he only retweets maybe four things a year and we should meet up at STORY and be best friends forever. (OK, maybe I made up the "best friends forever" part.)
Suddenly, STORY is here.
And I've been reading everybody else's blog posts about the conference and their bucket lists of friends they all plan to hang out with. Meantime, I just discovered this amazing community of writers online, just since
God asked me to write
, and not just for work, but for Him and for myself, a couple months ago.
And I've been thinking, "creative class?" Who am I kidding? I may be a writer, a published writer, a writer who writes every day, but I write for a newspaper, mostly, and reporters are generally practical folk who don't spend a lot of time talking about the sausage-making part of writing and inspiration and creativity and the redemptive power of our work. We just write, and we write under incredible deadlines and usually within the confines of 10 inches of space and a fifth-grade reading level -- not that that doesn't take creativity.
And now, as always happens when I try to fit in life outside of work, I'm just getting over a cold and my eye turned pink and I have nothing to wear and some extremely unfortunate "layers" happening on one side of my head because, you guys, I somehow managed to set my hair on fire this summer.
But if redemptive ideas can be found in the most unlikely, unexpected places of the world, then surely they can be found in me, too. I'm looking forward to meeting you all this week, to being impractical for a few days and, mostly, to hearing all your stories, all about what God is doing everywhere.
For updates from the conference, follow the hashtag #STORY2012 on Twitter. You also can follow me at @mcemilywrites.
Photo credit: STORY Chicago.